TAT 051 – Red Dot of Suffering

Standard Podcast [52:32m]:
Play Now
|
Play in Popup
|
Download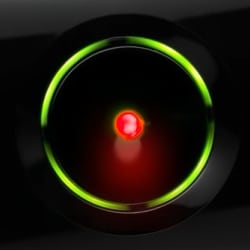 Come ogni anno l'E3 lascia strascichi per settimane, e in questa puntata di Tecnica Arcana Telegrafica parliamo dei problemi della nuova Xbox 360s, tra cui il Red Dot of Death (o più precisamente "of Suffering"!), non gravi ma di certo neppure un bel modo per debuttare nell'agguerrito mondo dei videogames, e a proposito di debutti stentati, arriva OnLive, l'innovativo servizio on demand per la distribuzione dei contenuti. Tecnologia ok ma non eccezionale e pessime condizioni d'uso ne segneranno la fine prematura o questo è l'inizio di un incubo che può cancellare la storia dei videogames? Per finire, quando il caldo si fa insopportabile, immergiamoci nuovamente nell'Atlantico per tornare a Rapture, parlare un po' di Bioshock 2 e scoprire la storia segreta del primo, inimitabile capolavoro!
Link:
Xbox360:
Red Dot of Death? Not quite.
Se siete molto sfigati o fessi, l'xbox 360 può ancora rigare i DVD
Xbox360 sbanca il Giappone, per la prima volta nella sua storia.
OnLive:
Le reazioni sul forum di OnLiveFans ai Term of Service
Prezzi di lancio da urlo (non in senso buono…) per OnLive
Una particolare recensione suggerisce problemi di texture stream, i server annaspano?
Una recensione "dalla strada".
Gaikai: gli unici contenti dei prezzi di Onlive
Carlo consiglia Defense Grid in offerta  400 punti su Xbox Live!
Bioshock & Bioshock2:
Irrational Behaviour podcast. (Link alla home, la pagina del podcast ha problemi)
Cani in carozzina e Rane con gli imbuti nel sedere: l'evoluzione delle sorelline.
I documenti di design di Bioshock ( Parte 1 | Parte 2)
Unboxing Bioshock 2 Special Edition
>>>TORNATE in settimana per una CHICCA su BIOSHOCK!<<<

Citati: TA-20 Bioshock | TA-30 Dossier Onlive
Seguite Tecnica Arcana su Facebook e su Twitter!
Comunicate con noi o unitevi alla Famiglia attraverso il tag #tecnicaarcana !
Musica utilizzata:
Nyghtshade – Morticia's Dance
Blazej Lindner – Mindmixing / Electric Storm / Dance of Devil / Midnight Theme / Fast Forward
Tratta dal Podsafe Music Network
No related posts.