Podcast: Esegui in una Nuova Finestra | Scarica (48.5MB)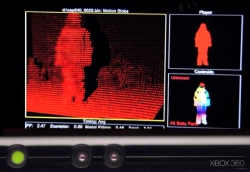 Con Alessio Del Bue, PhD e Senior PostDoc Researcher all'Istituto Italiano di Tecnologia parliamo di Visione Artificiale nell'ambito di Project Natal, l'innovativo sistema di interazione uomo-macchina che Microsoft si appresta a lanciare per la console XboX 360.
Indipendentemente dal fatto che Natal rivoluzioni o meno il mondo dei videogames, si tratta di uno dei pochi casi in cui la ricerca tecnologica e scientifica passa direttamente dai laboratori alle nostre case, in un mercato di larghissimo consumo.
Grazie all'esperienza decennale di Alessio Del Bue nel campo della Computer Vision, potremo addentrarci in questo settore estremamente complesso, cercando di capire come funziona Project Natal, analizzandone potenzialità e limiti e tracciando affascinanti scenari futuri.
This episode is NOT sponsored by Birra Benny.
Link:
Sito personale di Alessio Del Bue.
Project Natal, sito ufficiale.
Microsoft Research Cambridge.
PrimeSense, la tecnologia alla base di Project Natal
XTR – Extreme Reality una tecnologia simile che sfrutta semplici webcam
RGBD – Dense Point Cloud Mapping
Video:
Project Natal – Canale Ufficiale su Youtube
Innovation Journey
Demoing a Piece of the Future (XTR)
IGN Originals: The Real Project Milo Demo for Xbox 360
IGN Originals: Five Ways Natal Will Ruin Halo
Seguite Tecnica Arcana su Facebook e su Twitter!
Musica utilizzata:
Nyghtshade – Reflections
Tratta dal Podsafe Music Network