Standard Podcast [91:51m]:
Play Now
|
Play in Popup
|
Download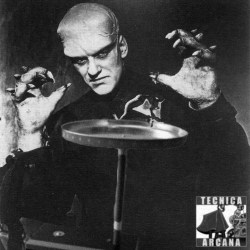 Era una calda notte d'estate, tre ubergeek accumunati dalla stessa passione si incontrarono per discutere di sonorità di un altro mondo. Con il contributo del più noto thereminista della rete…
Continua la programmazione estiva di Tecnica Arcana con The Theremin From Another World, e dopo due anni si ritorna a parlare di uno degli argomenti più amati dai Tecnici Arcani!
Michelangelo Rocchetti ed Alessandro Martellotta si uniscono a Carlo per sviscerare l'argomento Theremin: storia ed aneddoti, trucchi dei professionisti, tecnica e tecnologia, autocostruzione, miti e leggende in un episodio che vi terrà incollati al lettore mp3 in queste caldissime serate estive.
Con la collaborazione e gli splendidi pezzi del più noto thereminista di internet: Thomas Grillo!
I nostri ospiti:
Alessandro Martellotta [blog|facebook|twitter]
Michelangelo Rocchetti [facebook|twitter]
Huge thanks to Thomas Grillo for recording a shout out to our listeners and for sharing some great pieces with Tecnica Arcana's audience:
Thomas Grillo Official Website
Thomas Grillo YouTube Channel
Thomas performed Coffee Break and Thereputic with Adrian Hester Group
Link:
Etherwave standard | Etherwave plus | Etherwave pro | Ethervox
CV wikipedia | CV2MIDI
Schemi per theremin ottici e basati su pic (richiede iscrizione gratuita)
Simulatore di Theremin per PC
Esperimento di controllo col wiimote
Virtual Theremin
Il Theremin "Biscottiera IKEA"
Tegliamin
Il negozio online dell'artigiano Dan Burns
Theremin, an electronic odissey (film)
Theremin: ether music and espionage (libro)
Introduzione tratta da The Thing From Another World (1951)
Citato: TA023 – Theremin
Seguite Tecnica Arcana su Facebook e su Twitter!
Comunicate con noi o create battimenti attraverso il tag #tecnicaarcana !
Musica utilizzata:
Nyghtshade – Morticia's Dance + Michelangelo's Magic Theremin