Podcast: Esegui in una Nuova Finestra | Scarica (38.8MB)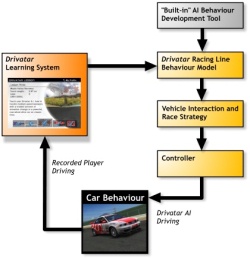 Ospite di questo episodio è Riccardo Berta, Ph.D, docente di Multimedia Digital Entertainment presso la facoltà di Ingegneria Elettronica dell'Università degli Studi di Genova.
Riccardo Berta ci offre un punto di vista inedito sul mondo dei videogiochi: l'aspetto accademico, della ricerca, delle nuove frontiere tecnologiche quali l'intelligenza artificiale, il machine learning, le nuove interfacce uomo-macchina e l'interactive storytelling.
Parleremo inoltre di Serious Games e Technology Enhanced Learning, ovvero l'uso di tecnologie derivate dal mondo dell'intrattenimento per scopi non ludici, dalla formazione scolastica e professionale fino agli usi militari.
Per finire sarà presentato il Global Game Jam 2010, la maratona planetaria non-stop di 48 ore nella quale i partecipanti si sfidano nella creazione di un videogioco originale su un tema assegnato.
Link:
Global Game Jam in Italia:
Global Game Jam 2010 a Genova [Twitter] [Streaming Video]
GGJ a Catania
Thread sul GGJ 2010 @ IndieVault.it
—-
IEEE Conference on Computational Intelligence and Games
Forza Motorsport, Drivatar AI engine
Torque Game Engine
Torcs: The Open Racing Car Simulator
Tactical Language & Culture Training System: Avvicinare i militari alla cultura del paese dove opereranno
Brain-Computer Interface and games: intervista ad Anton Nijholt
Emotiv system, first commercial device
Seguite Tecnica Arcana su Facebook e su Twitter!
Musica utilizzata:
Nyghtshade – Reflections
Tratta dal Podsafe Music Network