Standard Podcast [57:11m]:
Play Now
|
Play in Popup
|
Download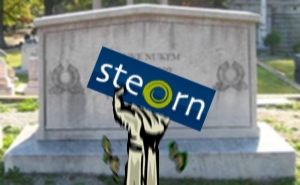 Tutto quello che sapevate da TAT 39 è falso!
Il Duca protesta per il frettoloso trattamento subito nella scorsa puntata: è tutt'altro che defunto… o quasi! E a proposito di Vaporware, il comitato scientifico di Steorn sbugiarda l'Orbo – il supposto generatore di energia gratuita ed infinita della casa irlandese.
id Software acquistata da Zenimax, quale futuro per il rilascio come Open Source dei motori di gioco Tech? Avete mai sentito nominare il modello di gestione di un progetto Open Source del… Doctor Who?
Link:
Duke Nukem in Tribunale – I documenti
ZeniMax acquista id Software – Wolfenstein
Firefox 3.5 – Statistiche di download – Dailymotion in HTML5
I produttori orientali di PC temono Microsoft
Steorn Orbo – Il verdetto del comitato scientifico
Origine dei nomi di TUTTI (o quasi) i personaggi dei videogiochi
Il modello di sviluppo del software Open Source del Doctor Who
IGN Best of E3 2009 – Scribblenauts: God Vs Chtulhu – God Vs The Kraken
Il romanzo di Bioshock
Buon 30esimo compleanno Capcom!
Arriva il feed storico di Tecnica Arcana – Archivio 2006 – feed / itunes
La posta:
Seguite Tecnica Arcana su Facebook e su Twitter!
Musica utilizzata:
Nyghtshade – Morticia's Dance
Blazej Lindner – Mindmixing / Electric Storm / Dance of Devil / Midnight Theme / Fast Forward
Tratta dal Podsafe Music Network
Categorie:
TAT, Tecnica Arcana
bioshock, cospirazioni, doctor who, duke nukem, energia, firefox, john carmack, linux, netbook, open source, scribblenauts, steorn, videogiochi