Podcast: Esegui in una Nuova Finestra | Scarica (30.1MB)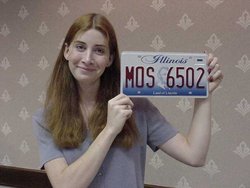 Il titolo di quarta Signora del Digitale di Tecnica Arcana, va quest'anno a Jeri Ellsworth, la regina degli Hardware Hacker.
Interrotti gli studi prima di conseguire il diploma di scuola superiore, Jeri si avventura nel mondo dell'imprenditoria e della progettazione hardware passando per un dura avventura costellata di auto da corsa e continui rifiuti.
Con caparbietà e cocciutagine, Jeri Ellsworth prosegue per la sua strada fino a diventare paladina di geek e nerd, progettista di successo e personalità di internet.
Too Smart to be cool, too cool to be a nerd, Jeri Ellsworth è la protagonista del 36esimo episodio di Tecnica Arcana.
Link:
The Fatman and Circuit Girl
Intervista su The Linux Link Tech Show (link diretto)
A Toy with a Story @ NYTimes
C-One Website

Musica Utilizzata: