TASH 04 – Speciale Halloween 2009 – Voci dall'Inferno

Standard Podcast [78:57m]:
Play Now
|
Play in Popup
|
Download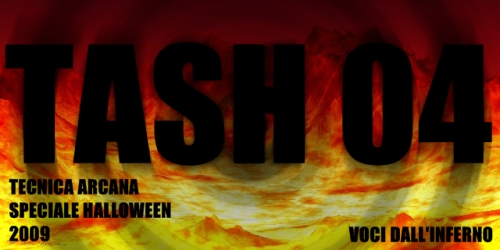 T E C N I C A A R C A N A H A L L O W E E N S P E C I A L 2 0 0 9
VOCI dall'INFERNO
Dall'Inferno siberiano del professor Azzakov, all'invadente alieno/starlet Vrillon per finire con il mistero delle number station. Ad Halloween i brividi non mancano mai su Tecnica Arcana, presentati per voi da Carlo e Francesco!
Links:
Sinnesloschen allo scoperto: scarica Polybius!
Snopes: The Well To Hell
We drilled through the gates of Hell – WWN
Vrillon/Ashteron: il pirata dello spazio e dell'etere!
La pagina di discussione sulla wikipedia, utile a fare chiarezza sulla vicenda
Number Stations
Conet Project @ Archive.org
Musica utilizzata:
Brandon Sollins – A Villians March
The Volume Brothers – Zombie Werewolf Alien Vampire Monsters
Odd Austin – Vampires Suck [Feat. Devo Spice]
abudtone – Ghost Town
I Am a Ghost – Dark Carnival of Immaculate
Tratta da MusicAlley
The Ink Spots – I don't want to set the world on fire
The Ink Spots – I get the blues when it rains
Tratta da Internet Archive

Effetti sonori utilizzati:
Squeaky Door – Ghost FX – From Darkness – Hal 1001 – Hal 3001 – Hal 4001 – Wind -  Carterattack – Hologram

Tratti dal Freesound Project
No related posts.