TA 044 – Ai miei tempi non c'era HTML5

Standard Podcast [45:45m]:
Play Now
|
Play in Popup
|
Download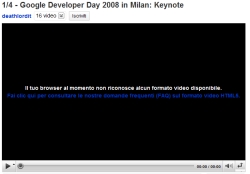 Il sogno del cloud computing è vecchio quanto la diffusione di Internet tra il grande pubblico, ma solo in tempi recenti è maturato a tal punto da essere effettivamente realizzabile.
Vediamo come HTML5 può portare ad una maggiore interoperabilità per la nascente piattaforma applicativa sul Web, perché per la prima volta una nuova versione dello standard interessa anche il grande pubblico e come mai la definizione di un codec per la parte video sembra generare divisioni ed ostacoli insormontabili.
Link:
HTML5 Presentation
HTML5 Demos
Creare Wolfenstein 3D con HTML5
Un demo "Giocabile"
HTML5 Video (wiki)
OSNews: Why Our Civilization's Video Art and Culture is Threatened by the MPEG-LA
Engadget: Know Your Rights: H.264, patent licensing, and you
StreamingMedia.com: Ogg, MPEG LA, and Submarine Patents
Ars Technica: Decoding the HTML 5 video codec debate
Seguite Tecnica Arcana su Facebook e su Twitter!
Musica utilizzata:
Nyghtshade – Reflections
Tratta dal Podsafe Music Network
No related posts.