TA 023 – Theremin

Standard Podcast [66:14m]:
Play Now
|
Play in Popup
|
Download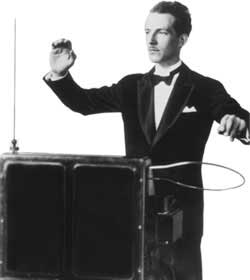 Il Dottor Michelangelo Rocchetti, fisico e thereminista, ci accompagna alla scoperta di questo straordinario strumento musicale, capostipite della musica elettronica, svelandoci i segreti che permettono la sintesi del suo suono caratteristico.
Il Theremin fu inventato negli anni '20 dal Leon Theremin, un fisico sovietico. Nato per la musica classica è presto diventato un punto di riferimento per il cinema horror e di fantascienza. E' uno dei pochi strumenti al mondo che si suona senza contatto fisico, ma "semplicemente" muovendo le mani in aria.
Michelangelo spiegherà come si suona e quali sono i fenomeni fisici alla base del suo funzionamento, presentandoci inoltre l'arpa laser e il Museo del Balì nel quale questi affascinanti strumenti musicali possono essere provati dal pubblico.
La sigla di questo episodio è Morticia's Dance, reinterpretata al Theremin da Michelangelo in persona.
Guarda Michelangelo in azione con l'ARPA LASER
Michelangelo Rocchetti
Wikipedia
_______
YouTube
The day the earth stood still – Austin Wind Symphony
Peter Pringle – La vie en rose
Led Zeppelin – "Whole Lotta Love" at Madison Square Garden
Howard Shore Racconta la colonna sonora di Ed Wood
Legend of Zelda

Spettacolare video e interpretazione di "Crazy" di Gnarls Barkley su Etherwave Pro
Corso di Theremin con Thomas Grillo (Lezione Uno)
Robert Moog a "The Screen Savers"
_______
Siti Ufficiali – Altro:
Musica utilizzata:
Nyghtshade – Morticia's Dance - Reflections

Tratta dal Podsafe Music Network
No related posts.