TA 050 – Burden NOT TA with your chaff!

Standard Podcast [98:42m]:
Play Now
|
Play in Popup
|
Download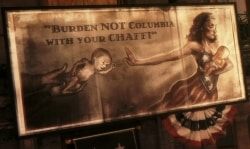 Torna (temporaneamente) Tecnica Arcana dopo una pausa estiva insolitamente lunga e come Andrew Ryan è qui per farvi una domanda:
"E' possibile, a due anni di distanza dal lancio ufficiale, parlare per un'ora e mezza di un gioco del quale si conosce solo il nome, un teaser ed un pugno di immagini?".
Se il nome contiene la stringa "Bioshock" e le keyword sono "Irrational Games" && "Ken Levine" la risposta non può che essere true.
Con l'acclamato Alessandro Martellotta, e per la prima volta su Tecnica Arcana, Gabriele Visconti (aka TheOneElectronic) abbiamo passato una serata a sviscerare presente, passato e futuro della saga di Bioshock, per arrivare al fulcro della trasmissione: cosa possiamo aspettarci da BIOSHOCK INFINITE?
Abbiamo analizzato per voi tutto il materiale disponibile fino ad ora, speculando sullo scenario, sui collegamenti con la saga originale, sull'ambientazione storica, sui personaggi, l'infulenza letteraria, artistica e politica, senza trascurare i nuovi elementi di gameplay e storytelling.
Raggiungete i nostri ospiti su:
Alessandro Martellotta [blog|facebook|twitter]
Gabriele Visconti [blog|twitter]
Links:
Irrational Games
Making of Bioshock Infinite Trailer
Bioshock Infinite
GameInformer Bioshock Infinite Hub
VG247 Ken Levine Interview
Bioshock Wikia
Citati:
Eugenetica negli Stati Uniti – Thomas Pynchon – Pinkerton NDA – TA 020 Speciale Bioshock
Il GamePlay video sarà disponibile il 21/09 su XBOX Live e 22/09 su internet. Appuntamento nei commenti per discuterne insieme!
Con tutta probabilità questo è l'ultimo episodio italiano di Tecnica Arcana. Le trasmissioni riprenderanno al più presto possibile dai TA-Studios di Riga (LV).
Non trovate che abbia qualcosa di Rapture?
Per rimanere aggiornati su questa nuova avventura e sullo stato di Tecnica Arcana, potete seguirmi su Twitter, iscrivervi al gruppo di Facebook e naturalmente, scrivermi!

A presto, amici miei!

Carlo.
No related posts.
Categorie:
TA, Tecnica Arcana
alpha, bettermens auto body, big daddy, bioshock, bioshock infinite, bioshock2, columbia, handyman, ken levine, rapture